The history of Lopdell House, The Treasure House and Te Uru Waitākere Contemporary Art Gallery
1926
A modest building with a classical portico, the Treasure House was built by Frank Oscar Peat as a museum for his collection of curios.
A jeweller, originally from Dargaville, Frank devoted his life to collecting Māori artefacts and items of natural history interest, including a celebrated kauri gum collection and taxidermy birds, bats and sea life. After the failure of Hotel Titirangi, Frank sold his collection to the Dominion and Rotorua Museums.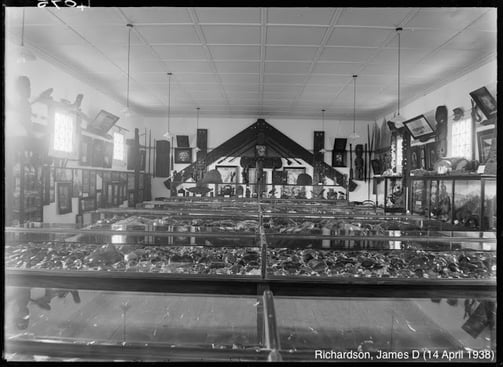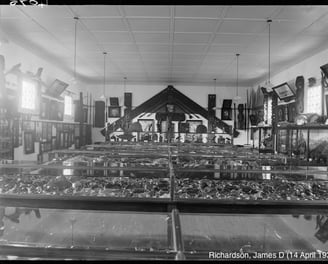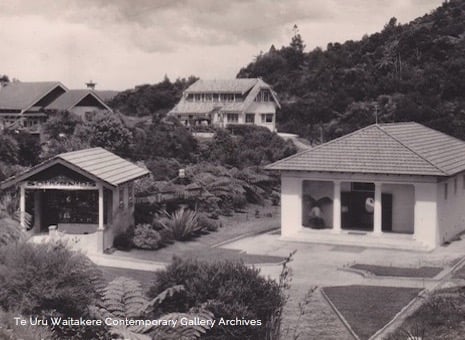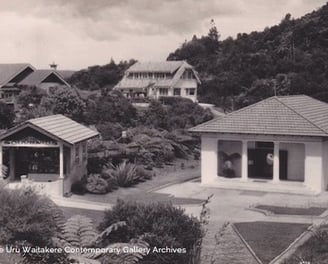 Inside the Treasure House
The Treasure House & grounds
Long before European arrival, Titirangi and the surrounding areas were occupied by Te Kawerau A Maki, who remain Mana Whenua here today.
Although forests in the Waitākere Ranges were extensively felled by colonial timber businesses in the 1800s, moves to conserve the bush subsequently emerged as part of a wider appreciation of Aotearoa New Zealand's natural and cultural past.
Following the creation of numerous scenic and other reserves in the area - some donated by wealthy local businessman Henry Atkinson (1838-1921) - Titirangi became a significant tourist destination on the fringes of Auckland. Directly reflecting this, one of the settlement's first tea kiosks was erected on the current site of Lopdell House, prior to 1917.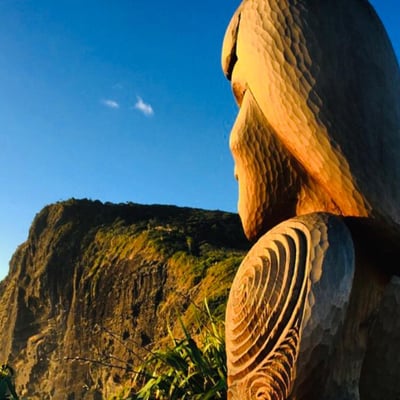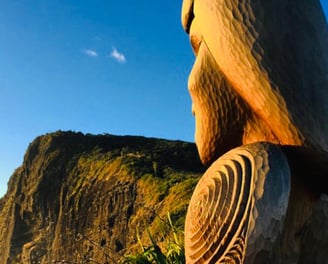 Hotel Titirangi
1929 - 1930s
Hotel Titirangi was built in 1929-1930 and was promoted as a 'Castle on the Fringe of Heaven'.
The Spanish mission style hotel could accommodate more than 60 guests in its 24 rooms. Hotel Titirangi housed tea rooms, a roof garden and observation deck, a garage, a post office, two shops and a restaurant with a dance floor. However, a much hoped for liquor licence was never granted, resulting in the hotel being given the nickname, 'The Pub with No Beer'.
Hotel Titirangi was a high-quality building but, in retrospect, an ill-timed enterprise. The building was completed just as the Great Depression started to affect New Zealand and as the 1930s continued, the hotel struggled to attract staying visitors. A night club was added towards the end of the decade, but the lack of a liquor licence continued to limit trade and it was sold in 1942 to the Department of Education.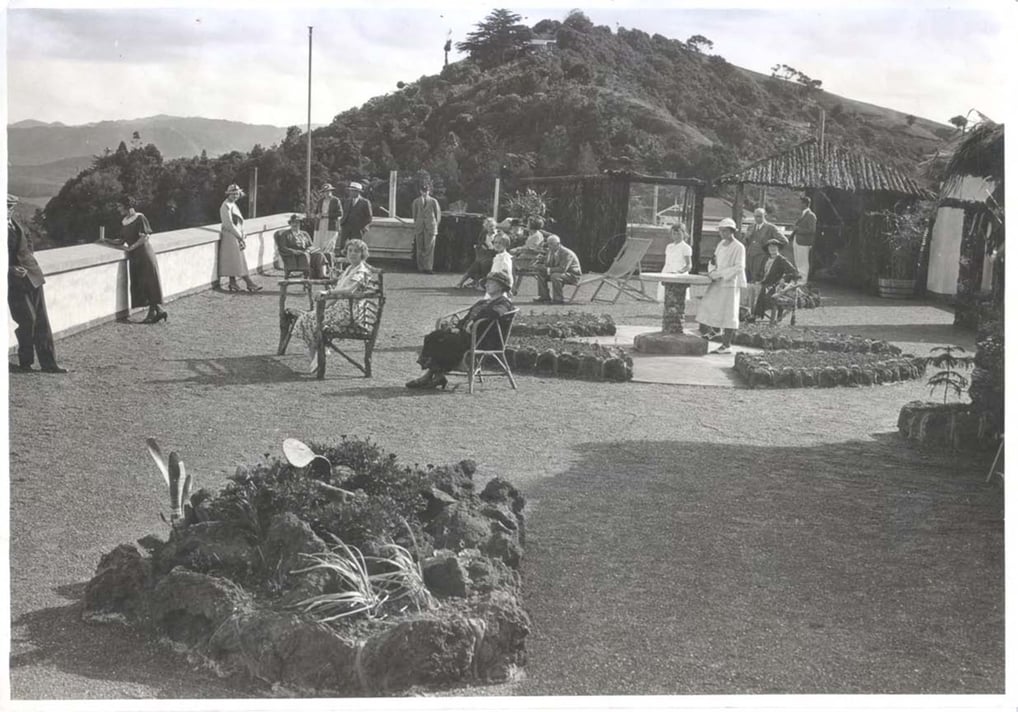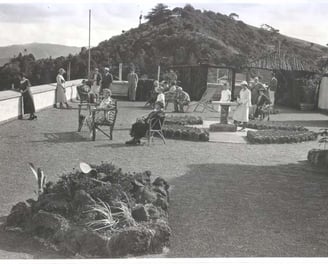 Rooftop Garden of Hotel Titirangi, 1930s
William Bloomfield
Architect, Hotel Titirangi
William Swanson Read Bloomfield (1885-1969 Ngāti Kahungunu), the architect of Hotel Titirangi, is one of the most interesting figures in New Zealand architectural history.
Probably the first person of whakapapa Māori to formally train and practice as a Western-style architect, Bloomfield pursued an enterprising architectural career in the first half of the twentieth century.
As well as Hotel Titirangi, other notable public buildings designed by Bloomfield include Yorkshire House, Queens Arcade and the Station Hotel, all in downtown Auckland. Later in his career Bloomfield also designed Binney House; the family home of well-known artist, Don Binney, in Parnell.
Throughout his life Bloomfield exhibited an equally strong passion for aviation, a commitment that survived his capture and imprisonment as a fighter pilot in the First World War, and a Flight Lieutenant and Honourary Squadron Leader in the Second World War.
In 1957, towards the end of his long and distinguished career that had been punctuated by war and economic depression, Bloomfield was made a Fellow of the New Zealand Institute of Architects. He retired from the Institute in 1959, when he was 74.
William Bloomfield passed away in Auckland in 1969, at the age of 84. He was an accomplished and versatile architect, able to turn his hand to the many styles that were current in the first half of the twentieth century - Chicago, Art Deco and Spanish Mission, and later mastered mid-century modernism in his residential designs.
WWI Portrait of
William Bloomfield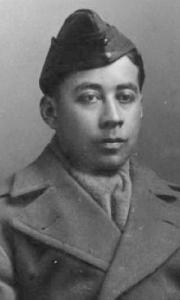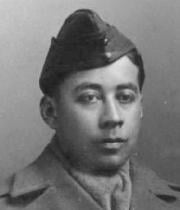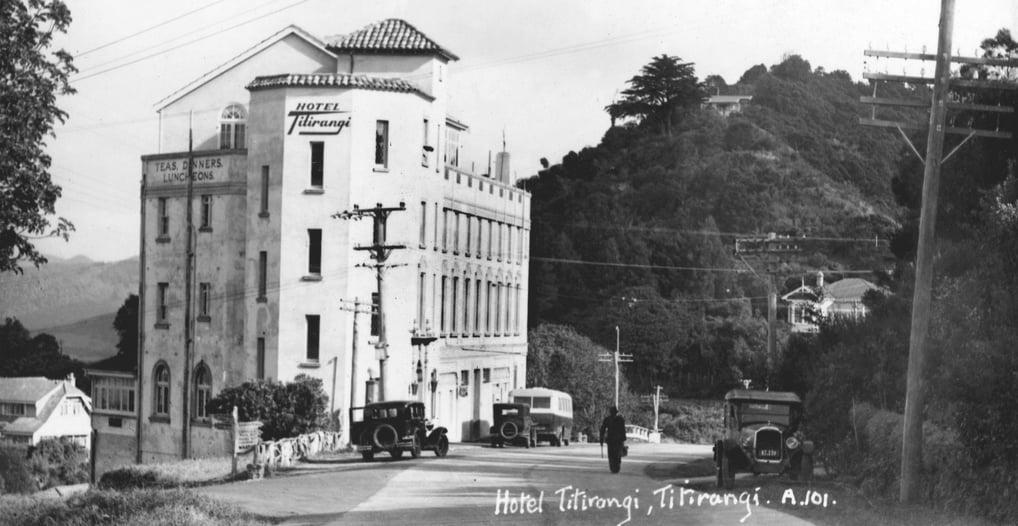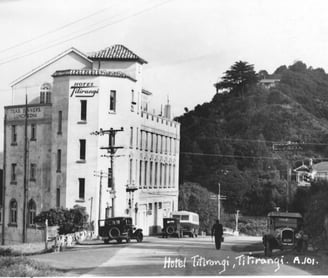 School for the Deaf, Department of Education
1942 - 1983
The hotel was sold in 1942 to the Department of Education, for use as a residential school for deaf children. It served all deaf, school-aged children born north of New Plymouth and Gisborne.
In 1960, when the school moved to purpose built premises in Glen Eden, the building was renamed Frank Lopdell House, after the Superintendent of Education. For the next 22 years, it offered residential training to in-service teachers from all over New Zealand.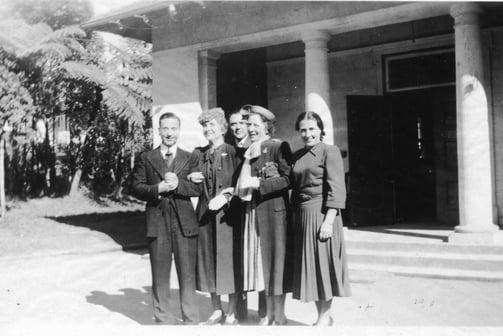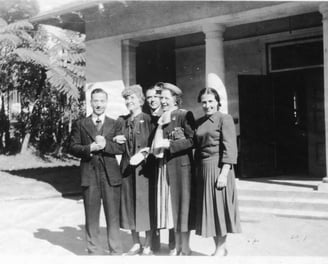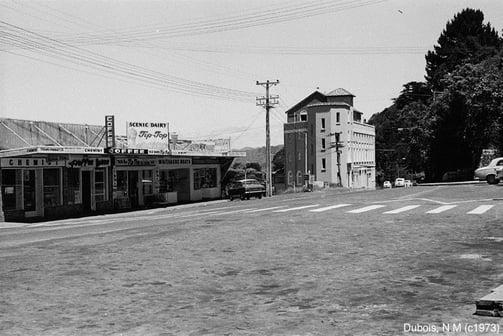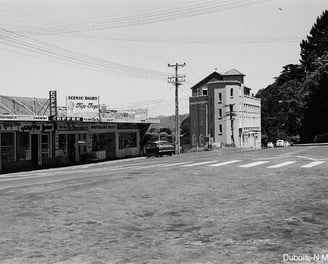 Lopdell House in the 1960s
School for the Deaf, 1948
Auckland Council
1983 - 2012
In 1983 Lopdell House was purchased by the Waitematā City Council, and the landmark building was refurbished as an arts and cultural centre with studios, galleries and a 100-seat theatre.
The Lopdell House Development Trust was formed in 2002 by a group of community volunteers, concerned for the deteriorating building and the future of the arts activities it housed.
Support was provided by the Waitākere City Council and, when the supercity was formed, the new Auckland Council embraced the partnership.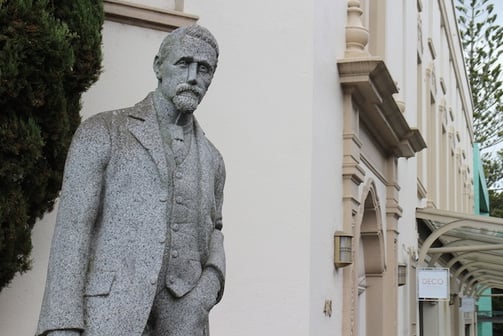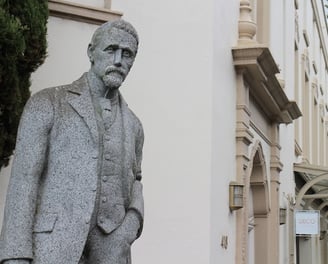 Statue of Titirangi businessman, Henry Atkinson
Lopdell Precinct
2012 - Present day
In 2012-14, Lopdell Precinct's historical, architectural and social significance was enhanced by conservation of the pre-existing structures and the addition of Te Uru. Both projects won New Zealand Architecture Awards in 2015.
Auckland Council and the Trust partnered with Mitchell Stout Architects and NZ Strong, to seismically strengthen and redevelop Lopdell House and the Treasure House, and to build a new six-level gallery. These buildings now form Lopdell Precinct, a significant arts hub for Waitākere.
In 2020, Lopdell Precinct was listed by Heritage New Zealand Pouhere Taonga as a Category 1 Historic Place.
Lopdell Precinct Grand Opening, 2014